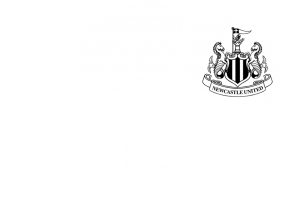 2018/ 19
A GAME CHANGING YEAR IN REVIEW
Scroll or use your keyboard arrows to navigate.
WELCOME
Since 2008, Newcastle United Foundation has been using the power of football to connect, engage and inspire in ways that others simply cannot.
You will see many 'Gamechangers' throughout this Annual Review who are taking small steps to make big changes to their lives. Newcastle United Foundation has helped them make positive moves for themselves and their communities.
Our vision is to create a united community full of pride, passion and potential. Read on to find how we have empowered a collective group of game changers during 2018/19.
Thank you to Parkdean Resorts for sponsoring our digital annual review for the second time.
We also thank Newcastle United Football Club, the Premier League and our other generous funders for their ongoing support.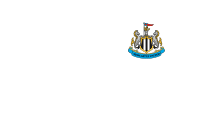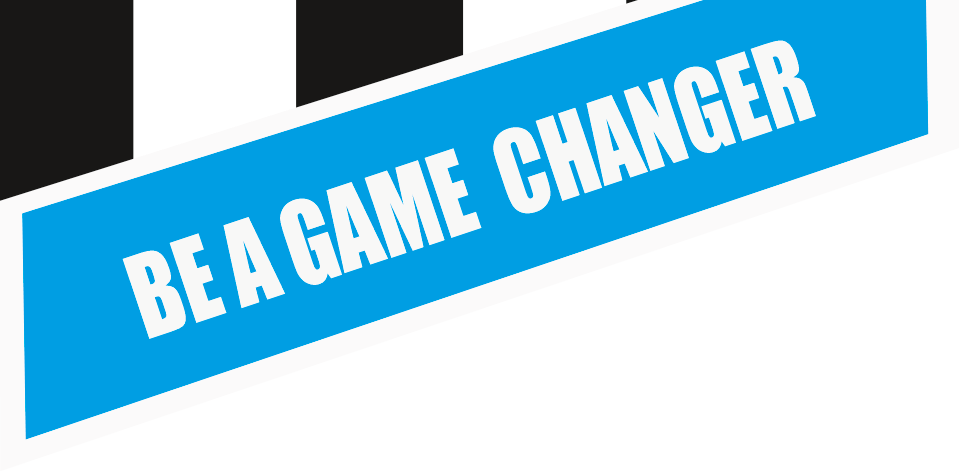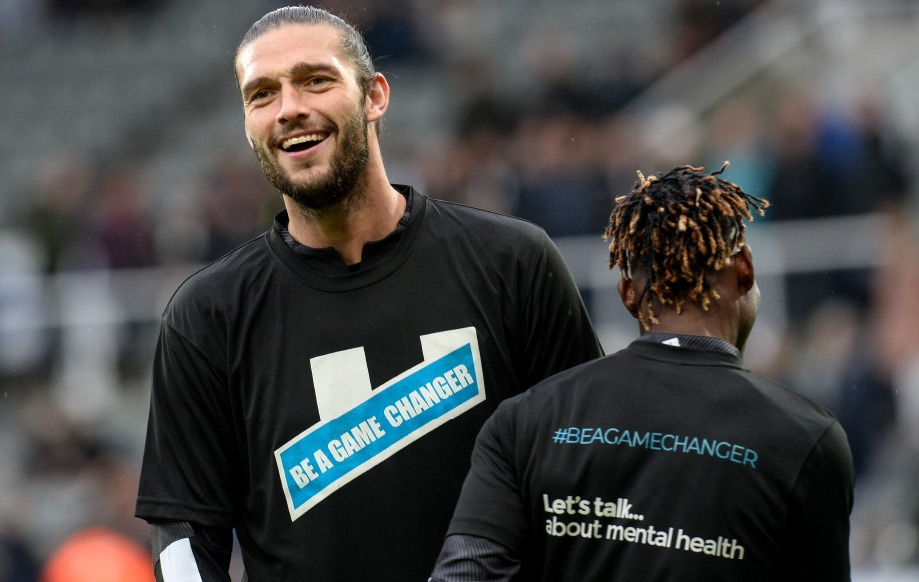 Speaking of Gamechangers, our Be A Game Changer campaign, which launched in February 2019, has reached 1.8 million people online, created an online community and involved 92 North East businesses. The Foundation has held 13 community and 10 networking events to promote the campaign and it has been widely covered across national print and broadcast media on Match of the Day, BBC Inside Out, Sport Relief and The Independent.
GAME CHANGING
Our #BeAGameChanger mental health awareness campaign inspires Newcastle United fans to talk more openly about their mental health and wellbeing.
However daunting, however small or however difficult, our staff guide participants of every age, ability, ethnicity, faith, gender and sexuality to achieve their full potential.
We are kicking off the conversation about mental health here at St. James' Park – for participants, for staff, for players and for every single football fan welcome at our stadium.
United in our passion for Newcastle United and the beautiful game, we are empowering a collective of game changers, committed to making a difference through the power of football.

GAME CHANGING SUPPORT
Thank you to Parkdean Resorts for sponsoring our 2018/19 annual review.
The UK's largest holiday park operator, Parkdean Resorts, is proud to sponsor the Newcastle United Foundation Annual Review once again, building on its partnership throughout 2018/19.
Parkdean Resorts owns and operates 67 UK holiday parks, boasting a truly national offering and a strong presence in our region with five North East parks.
With more than 2900 (2937 to be exact) seasonal and established employees in peak season, over 465 of which are based at the Gosforth headquarters, Parkdean Resorts runs successful training schemes for graduates and apprenticeships, aimed at encouraging young people into the leisure industry as well as internal training schemes, to create future heads of departments and general managers.
We are incredibly proud to continue our long-standing support of Newcastle United Foundation – a charity inspiring countless communities across our region regardless of age, ethnicity, faith, gender or sexuality.
INSPIRING THE COMMUNITY
Our ambition to deliver a world class facility for the people of Newcastle and beyond continues.
In September 2019, we received a £2.6 million investment from the North of Tyne Combined Authority (NTCA) for 'NU Futures'.
This will transform the way young people transition from education to the world of work through an extensive outreach programme and will be housed in our new community hub. 
View below Newcastle United Foundation Patron Shola Ameobi talking about how this community asset will change the lives of thousands of people for the better.
To find out how you can get involved or to show your support, please contact Sarah Medcalf, Deputy Head of Foundation on 07880 006 405 or email Sarah Medcalf. Click on the button below to see our vision for our new community hub.

Launched our Be A Game Changer mental health awareness campaign, reaching more than 1.8 million people on social media
_________________________ 
Welcomed 32 new members of staff to the Foundation family
_________________________ 
Won three industry awards, shortlisted for three more
_________________________ 
Launched 'United Futures' with People's Postcode Lottery across Newcastle, Gateshead, Northumberland and North Tyneside
_________________________ 
Twinning Project launch providing HMP Northumberland residents with vital qualifications for employment
_________________________
Hosted Strong Foundations event at St James Park attended by 150 representatives from the public, private and voluntary sector. Key note speaker was Andy Haldane, Chair of the Industrial Strategy Council and Chief Economist at the Bank of England
_________________________
Doubled the number of disabled players on amputee, blind, deaf, Down's Syndrome, frame, partially sighted and powerchair football teams to 2,728 adults and children
53,086 Participants across our Learning and Skills programmes
_________________________ 
Created our first numeracy and character development programmes in Primary Schools
_________________________  
 Announced Northumbria University as a major new partner of Newcastle United Women  
_________________________  
240 regional businesses signed up to NE1 Works
_________________________ 
Newcastle United midfielder Sean Longstaff became Foundation Ambassador  
_________________________ 
Sports Broadcaster Gabby Logan MBE became a Patron
_________________________
Fundraisers donate a record-breaking £11,000 by completing the Great North Run in our charity's name
_________________________  
Signed the Employer Pledge with Time to Change to end mental health discrimination in the workplace
_________________________ 
£500,000 donation from Helen McArdle and Family to the new community hub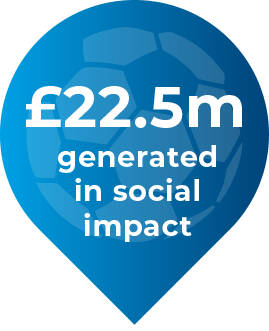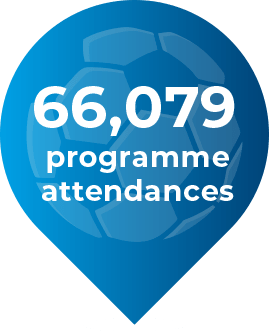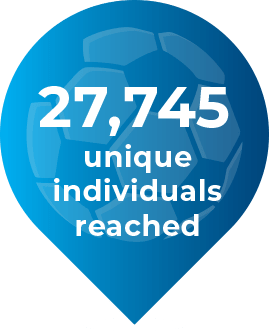 Data Source EY & Newcastle United Foundation
teachers would recommend United as One content to staff and other schools in helping to tackle discrimination
of adults likely to take on further education after completing Family Learning programme
of Newcastle United supporters changed the way they think about mental health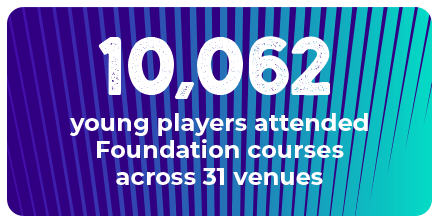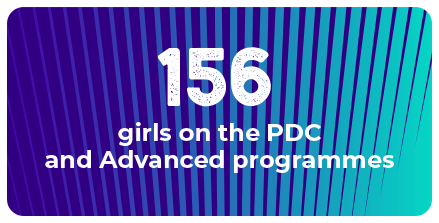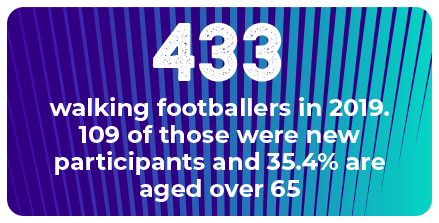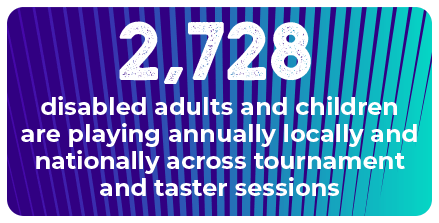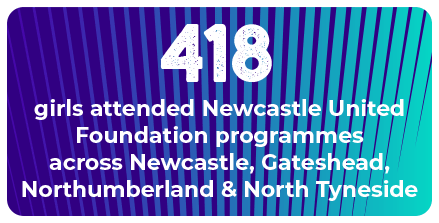 TRAINING TIME
Newcastle United Head Coach Steve Bruce went back to his roots to meet our game changing cerebral palsy participants and give his support to Premier League Kicks.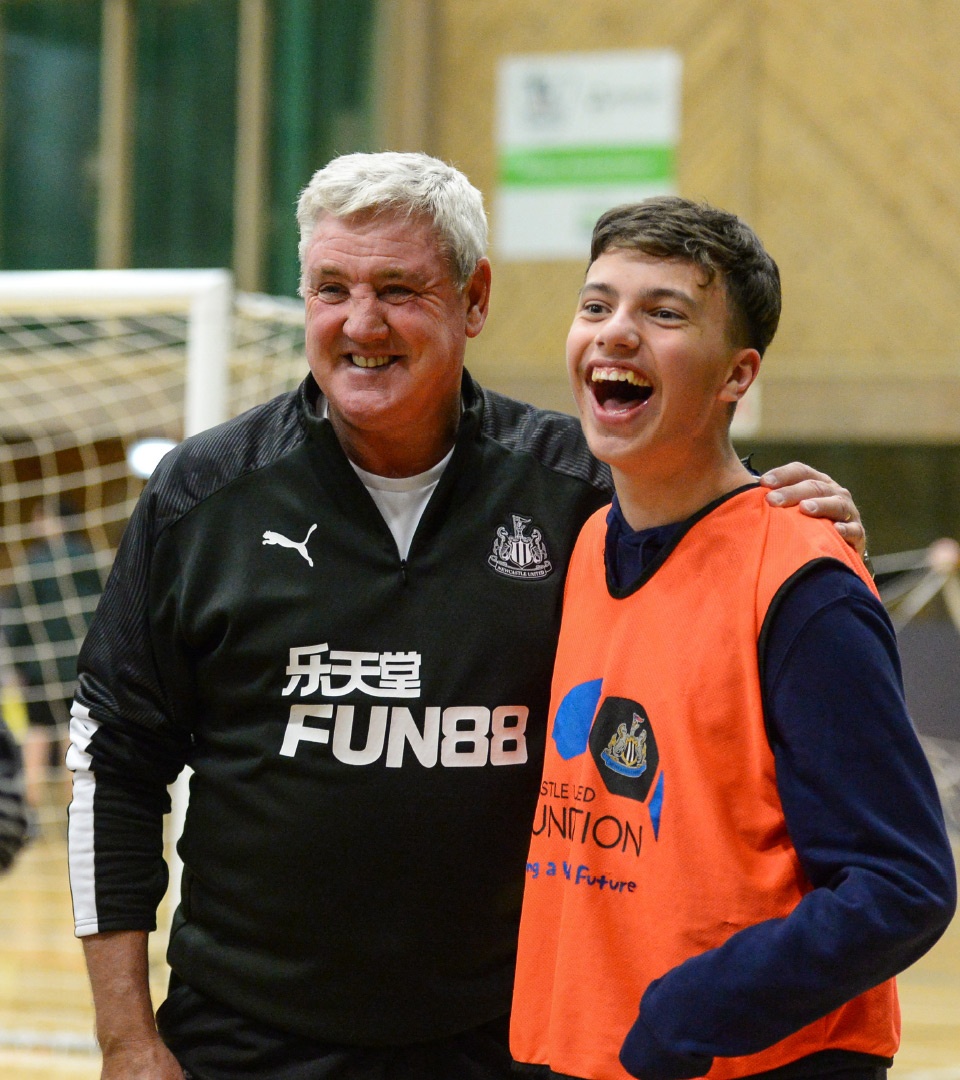 GAME CHANGER: CHRISTOPHER McDONNELL
Christopher is a champion of Newcastle United Foundation's Football for All Programme and has made incredible progress across a range of sports. Christopher, who has Down's syndrome, is from Longhoughton and has been engaging with the Foundation for years. In 2015, he shone in the swimming pool and on the football field, despite undergoing two major open-heart surgeries when he was younger. Aside from securing personal best's, gold, silver and bronze medals for swimming at international level, Christopher plays football for the Newcastle United Foundation Down's syndrome team who have achieved national success with their star player. Christopher is determined, hard-working and focused on achieving his goals and supporting his teammates.
children enjoy Primary Stars PE lessons

primary school pupils join United As One, learning key messages around the impact of hate crime
secondary school students improve their awareness of employer expectations through Premier League Enterprise

of teachers more confident to deliver PE

secondary school students earn personal social development qualification

SUPER SEAN INSPIRES
Humble local hero Sean Longstaff spent time getting to know young students making their way into secondary education with help from Newcastle United Foundation staff.






GAME CHANGER: IMRAN ALI
Imran lived in Bradford with his mum – it was the two of them at home and it was tough for them as a family financially. Imran left school at 16 to find work to help support the family. They moved back to the region in March as Imran's mum is from the North East. On arriving in the North East, Imran did not have any friends or any connections. He connected with the Foundation after signing up to the Princes Trust Team programme in summer 2018 to help build confidence, make new friends and become more employable. He has also accessed Premier League Kicks and Street Football as a participant. Newcastle United Foundation have offered Imran opportunities whilst on the Team programme to grow and flourish. Imran is now a Prince's Trust ambassador and became a Foundation employee, using his experience to inspire other young people into employment, training or future education.
GAME CHANGER: JOHN HARPER
John runs the inclusive team Newcastle Panthers with the support of the Newcastle United Foundation. When John decided to be open about his sexuality, football offered him valuable support. He had been a budding footballer, who had been on the books of Barnsley as a child and also had trials for Hull City and Scunthorpe United. But when those pathways fell through, he moved to study at Newcastle, where the Newcastle Panthers offered him a welcoming environment at an important time. The Panthers were formed when John was 22 – the same age as when he came out. John went from hiding his sexuality to joining an inclusive environment that also brought him back to his love of football. After a decade with the club, John is now the chairman, as well as being the captain and centre-half. The Panthers welcome players from all walks of life no matter what your gender, sexuality or race. The Panthers' growth has been helped by the support of the Newcastle United Foundation.
SIR BOBBY ROBSON'S LEGACY
On the tenth anniversary of Sir Bobby Robson's death, the legacy of the legendary manager lives on for children diagnosed with cancer thanks to a partnership between Newcastle United Foundation and Sir Bobby Robson Foundation. The charities have been working together for more than three years to provide sporting and educational activities for young cancer patients receiving treatment at the Great North Children's Hospital in Newcastle.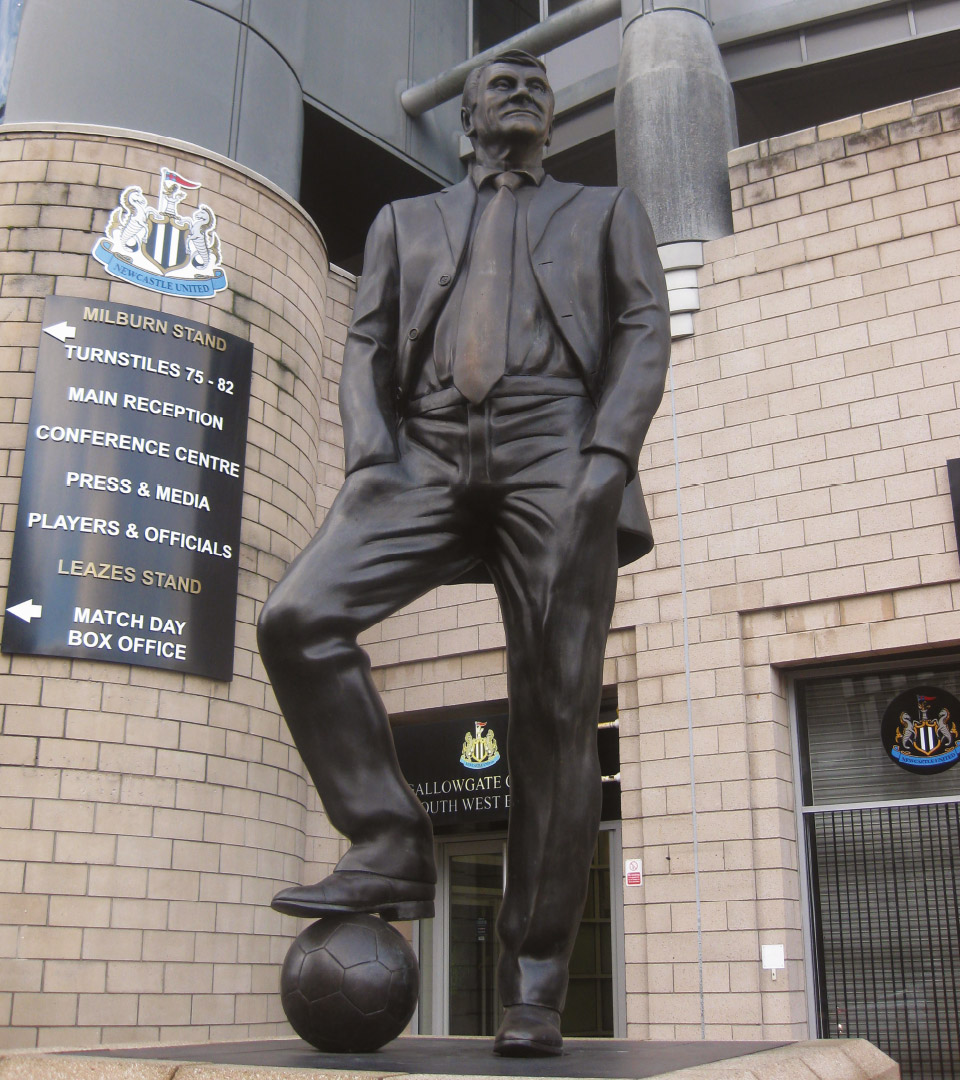 members join Facebook Community Support Group
Be A Game Changer cards given to Newcastle United supporters
men engaging with Walking Football, MAN v FAT and 12th Man projects
1
Newcastle United home fixture dedicated to World Mental Health Day
Newcastle United Foundation uses the power of football to motivate and inspire people to be more active, learn new skills, be more employable and to reach their potential. We coach, mentor, educate and provide opportunities to communities that truly need them, reaching more than 66,079 people each year across the North East. For more information, visit nufoundation.org.uk
Vision
A united community, full of passion, pride and potential.
Mission
Football has an extraordinary power in our region. It connects, motivates, inspires and engages.
From children to adults, we work with generations in our community.
Through our sporting, education, personal development and health programmes, we help people to be more active, to learn, to be more employable, to be healthier, to make connections and to reach their potential.
We are proud of our history but even more excited for our future.
Values
We are ambitious and inspire people to achieve their goals.
We are determined and lead by example.
We are reflective, celebrating success and sharing our learning.
We are united in our commitment to equality, diversity and inclusion.
Patrons
Shola Amoebi
Jonathan Edwards CBE
Gabby Logan MBE
Bob Moncur
Player Ambassador
Sean Longstaff
Trustees
John Marshall (Chair)
Claire Alexander
Lee Charnley
Judith Doyle
Steve Harper
Graeme Mason
Mick Thompson
Brian Thorpe
Senior Management Team
Steve Beharall, Head of Newcastle United Foundation
Sarah Medcalf, Deputy Head of Newcastle United Foundation
Steve Mack, Operations Manager
Helen Wilson, Senior Finance and Resources Manager
Katie Tasker, HR Manager
Andrew Foster, Learning and Skills Manager
Management Team
Caroline Brown, Events Manager
Andrew Dobby, Football Development Manager
Anya Lawrence, Community Programmes Manager
Ashley Lowe, Health and Wellbeing Manager
Matt Smith, Marketing and Communications Manager
Gill Keeka, Development Manager
THANK YOU
Arnold Clark
Atom Bank
Barclays
Bell Group
Bidfood
Black & White Construction
Black & White Engineering
Brewin Dolphin
Cool Design
Cedar Group
EY
Fentimans
Hitachi Rail
Institute of Directors
Inter-Vention
ITC Service
Liontrust Asset Management
Mediaworks
Molson Coors
Muckle LLP
NE1 Ltd
NEPIA
Newcastle International Airport
Newcastle College
Newcastle University
Northumbria University
Parkdean Resorts
Projector Brand Communications
Puma
Pure Panel Management
Pulsant
Reece Group
Robertson Facilities Management
Ryder Architecture
Sodexo
Surgo
TDX
Tesco Bank
The Launch Group
The Malhotra Group
The NBS
Tolent
Technology Services Group (TSG)
Visa
Ward Hadaway
Womble Bond Dickinson
XE
Zumbotel Group
Baily Thomas Charitable Fund
BBC Children in Need
Bernicia
Big Lottery Fund
Big Potential
Blakelaw Parish Council
BT Supporters Club
Byker Community Trust
Coach Core
Comic Relief
Crispa Charitable Trust
David Harrison Centre for Social Mobility
Department for Education
ESF
Football Foundation
Goldman Sachs Gives
Helen McArdle and Family
Heritage Lottery Fund
Home Office
John Horseman Trust
Joseph Strong Frazer
LNER
Man v Fat
Michael Carrick Foundation
NE1 Ltd
NEPIA
New College Durham
Newcastle Airport
Newcastle Bridges
Newcastle City Council
Newcastle College
Newcastle Helix
Newcastle University
Newcastle University Business School
North Tyneside Council
Northern Education Trust
Northstar Foundation
Northumberland Children's Trust
Northumberland High Sheriff Award
Northumbria Police and Crime Commissioner
Northumbria University
People's Postcode Trust
PFA
Premier League Charitable Foundation
Princes Trust
Provincial Grand Lodge of Northumberland
RW Mann Foundation
Reece Foundation
Sir Bobby Robson Foundation
Sir James Knott Trust
Sport England
Stagecoach
Tesco Bank
The FA
Tyne and Wear High Sheriff Award
Tynemet College
UEFA Foundation for Children
Vinspired
Wellesley Trust
Wise Group
Your Homes Newcastle
The Foundation does a wonderful job in the community and it's great to come down and see what the staff do at close quarters, particularly in a part of Newcastle which means so much to me.
In a city like ours, where people live and breathe football, giving kids support, opportunities and a bit of encouragement to play is vitally important.
It's initiatives like the Foundation's that I believe can really make a difference – helping build confidence and equipping our young people with the skills and knowledge they need to hopefully encourage them to strive for a bright future.
It's been such a great pleasure to see Newcastle United Foundation and Sir Bobby Robson Foundation working together and I know Sir Bobby Robson would be immensely proud of what these two charities have achieved and their vision for the future.
Newcastle United Foundation's work is a great example of how the third sector can support a region.
It is partnerships between industry, charities, education and others that will create opportunities for the future.
I'm delighted to hear about the new building for the Foundation as so many things are environmental and if you're in a purpose-built facility, it's a nice feel-good factor and it gives you that ambition to do well.
The Foundation has been particularly interesting because with my children being involved with the charity, I'd like to think that I'm leaving a legacy.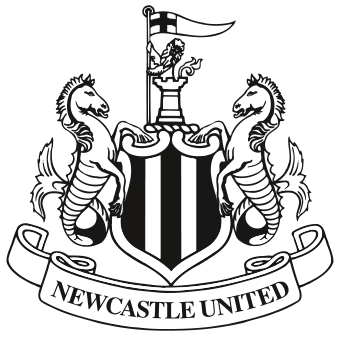 Newcastle United Foundation
St James' Park
Newcastle upon Tyne
NE1 4ST
0844 372 1892 Ext: 8451*
Registered Charity Number: 1124896
*Calls cost 7p per minute plus your phone company's network charge.