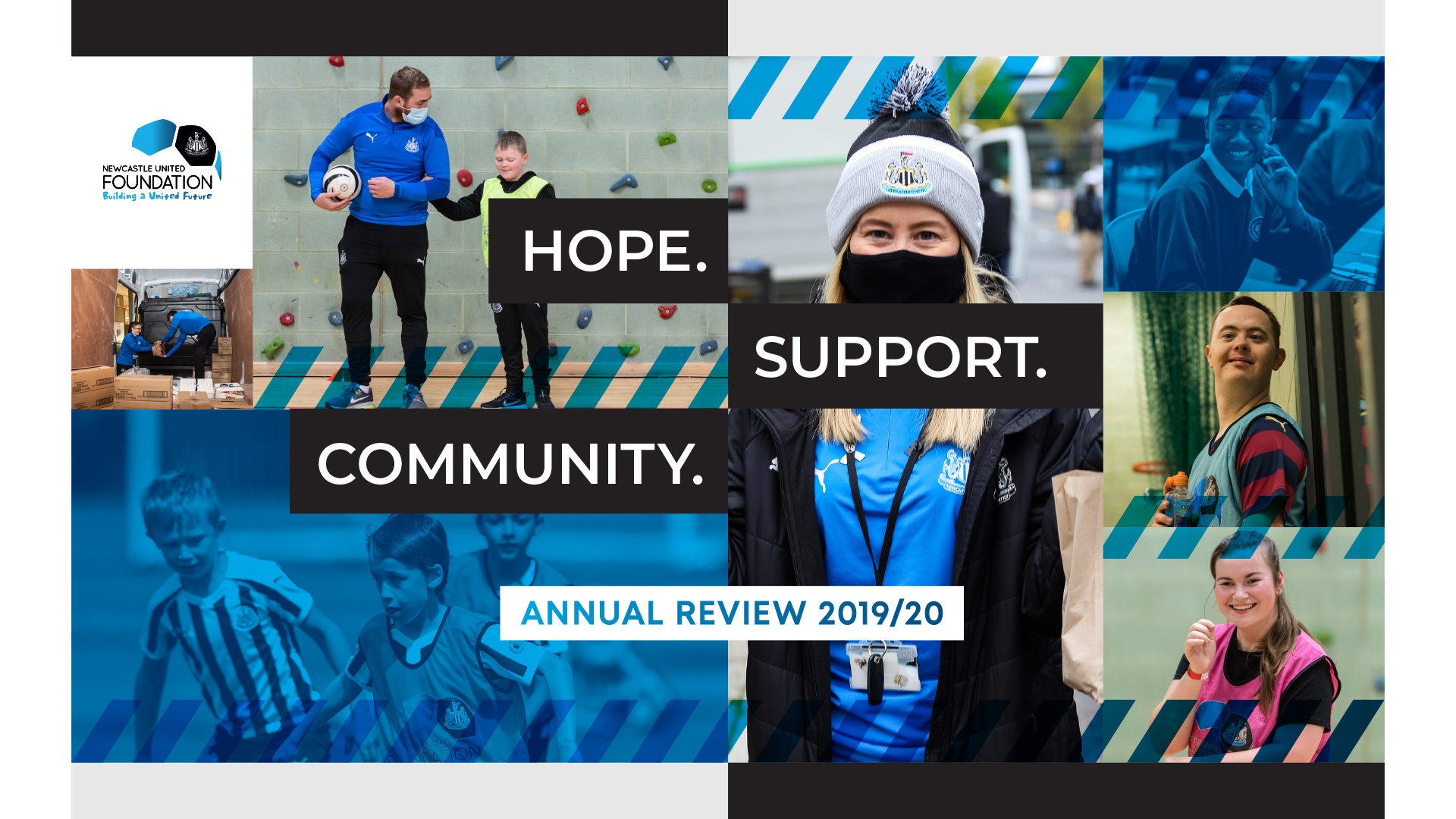 A YEAR LIKE NO OTHER
Newcastle United has the power to bring a city and a region together and Newcastle United Foundation is integral in making that happen.
Since 2008, the official charity of Newcastle United has been changing lives for the better, helping people improve their physical and mental health, become more employable and encouraging them to reach their potential.
And our vision is to create a united community full of pride, passion and potential. Newcastle has remained committed to supporting disadvantaged communities across the North East
Read on to see how we have empowered communities to feel hope during an extraordinary 12 months where we all needed a little extra happiness.
Thank you to Parkdean Resorts for sponsoring our annual review. We also thank Newcastle United Football Club, the Premier League and our other generous funders for their ongoing support.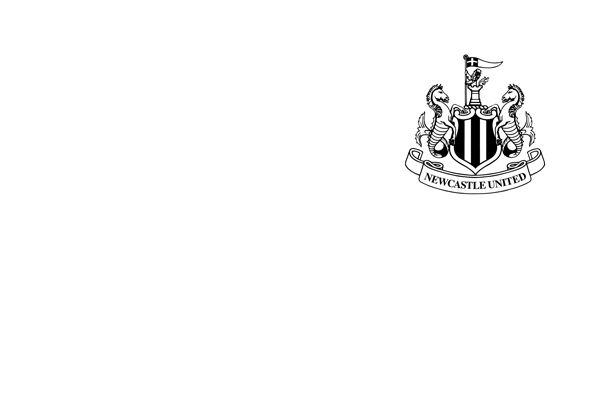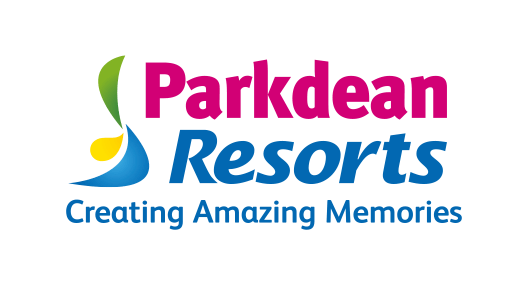 Thank you to Parkdean Resorts for sponsoring our 2019/20 annual review
Parkdean Resorts, the UK's leading holiday park operator, is pleased to be building on its partnership with the Newcastle United Foundation by, once again, providing support throughout 2020/21.
The business owns and operates 67 unique holiday parks at the heart of unrivalled rural and coastal communities across the UK who, in turn, rely on the business for employment, continued investment and a commitment to cherish the uniqueness of each community. With an impressive national footprint, it is proud to have a particularly strong presence in the North East, with five holiday parks and a Central Support office located there.  
The challenges presented by 2020 saw community links become even more important. During the period of lockdown, park teams donated tens of thousands of pounds of essential supplies to local food banks, nearby schools and NHS medical facilities. The business also supported NHS key workers by providing more than 1,000 nights of free accommodation at four parks to over 50 key workers who were unable to stay in their homes during the lockdown period.
Parkdean Resorts is delighted to continue its long-standing support of the Newcastle United Foundation, which inclusively inspires countless communities across our region.
We are incredibly proud to continue our partnership with the Newcastle United Foundation, a charity which continues to have a positive influence on tens of thousands of people across our region by encouraging them to make positive life changes.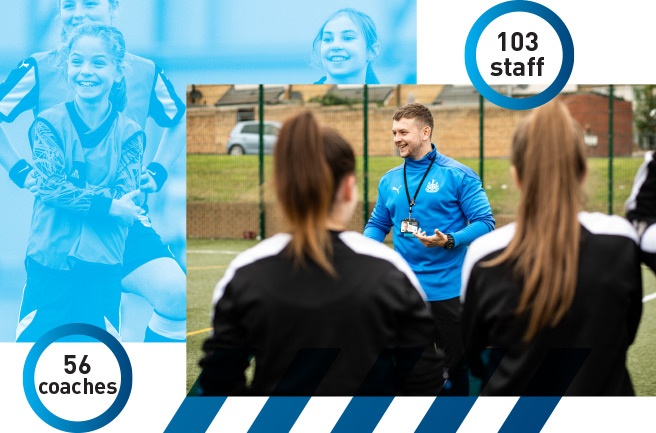 The Foundation employed 103 permanent and fixed term staff along with 56 sessional  coaches  during  the  year  to  work  across all  its  activities  throughout  Newcastle, Gateshead,  North  Tyneside, County Durham  and  Northumberland. 
participants on Foundation programmes
Premier League Primary Stars lessons delivered
hours of Premier League Kicks football sessions delivered
Newcastle United Foundation recorded revenue of more than £4.3m for financial year 2019/20 – the charity's highest in its 13-year history and 13% up on the same period last year, and more than double that of four years ago.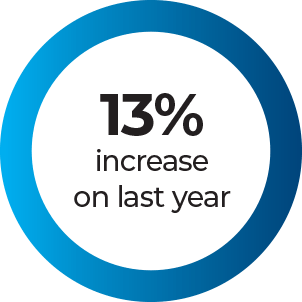 When the first pandemic-related restrictions put life on hold for millions across the globe from April 2020, Newcastle United Foundation remained committed to supporting communities in the North East.
With the charity's work impacted by lockdown, dozens of members of staff were happily redeployed from their usual roles to ensure those in need would still safely receive support. Children and young adults were at the heart of the Foundation's coronavirus response, ensuring learning, physical activity and employment opportunities continued where possible.
HOW WE HELPED DURING THE COVID-19 PANDEMIC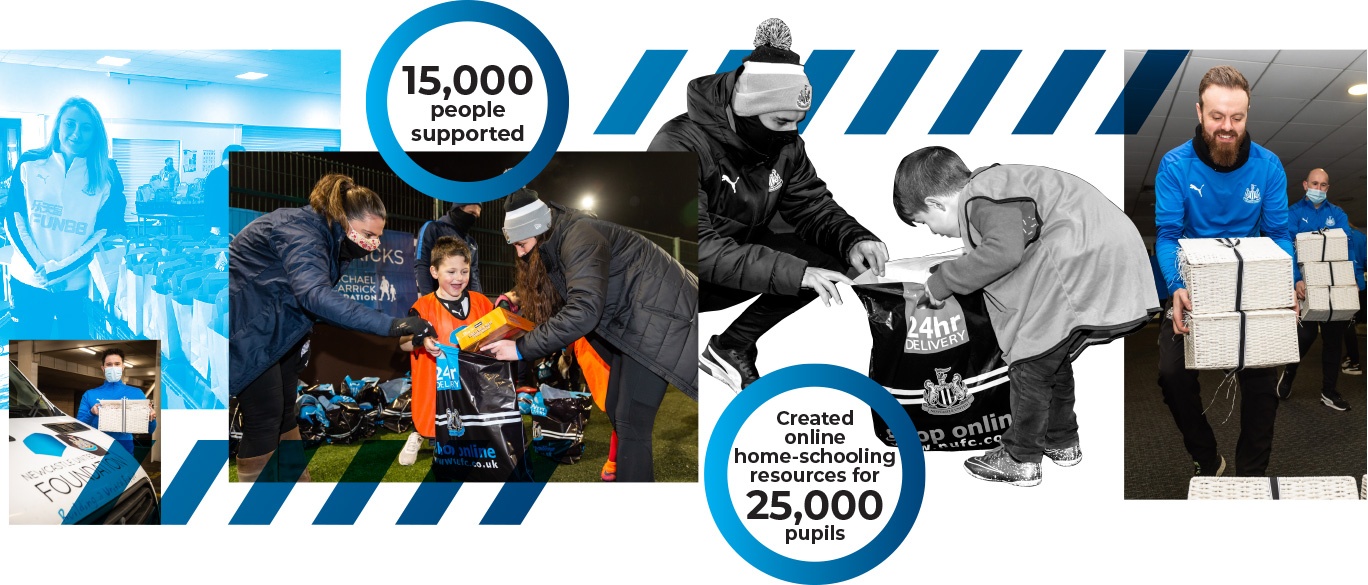 The Foundation helped almost 15,000 vulnerable people. From delivering food parcels to the homes of vulnerable children, telephoning our isolated elderly participants shielding at home, to maintaining school children's physical and mental well-being, we remained committed to keeping our communities healthy and happy.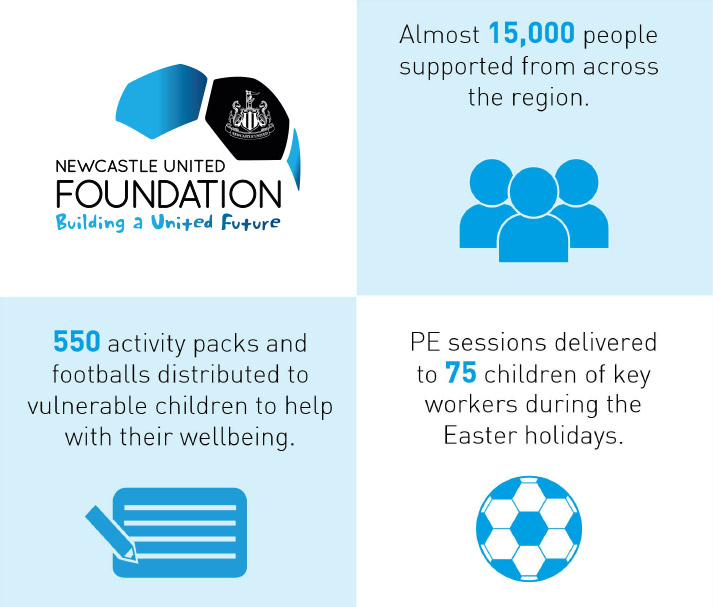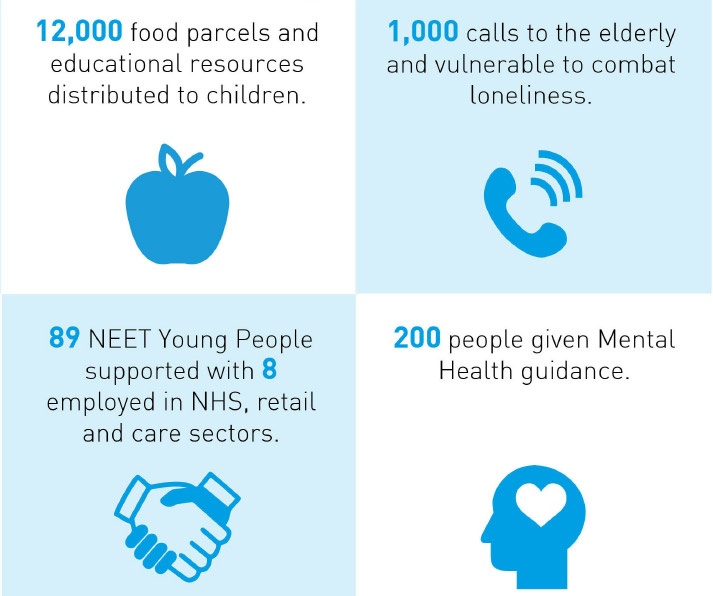 Newcastle United Foundation coronavirus response
helped almost 15,000
vulnerable people
Newcastle United Foundation combat loneliness, stress and anxiety with regular telephone calls to walking footballers
Unemployed young people secure key worker NHS and care roles with Newcastle United Foundation
At the heart of the COMMUNITY
James' Story
The life James knew as a teenager slipped away in an instant when he sustained a brain injury. Recovery to regain independence would be gruelling, but of all the new challenges James was facing, it was rebuilding his self-confidence that proved the hardest.

The campaign to date has reached in excess of 2 million people and has had a number of strong outcomes. 
ANDREW'S STORY
Andrew Cave tried to take his own life at 28. Years of bullying from schoolmates, denying the grief of losing his grandmother and the knowledge his mother had attempted suicide more than once was a huge burden to bear for Andrew.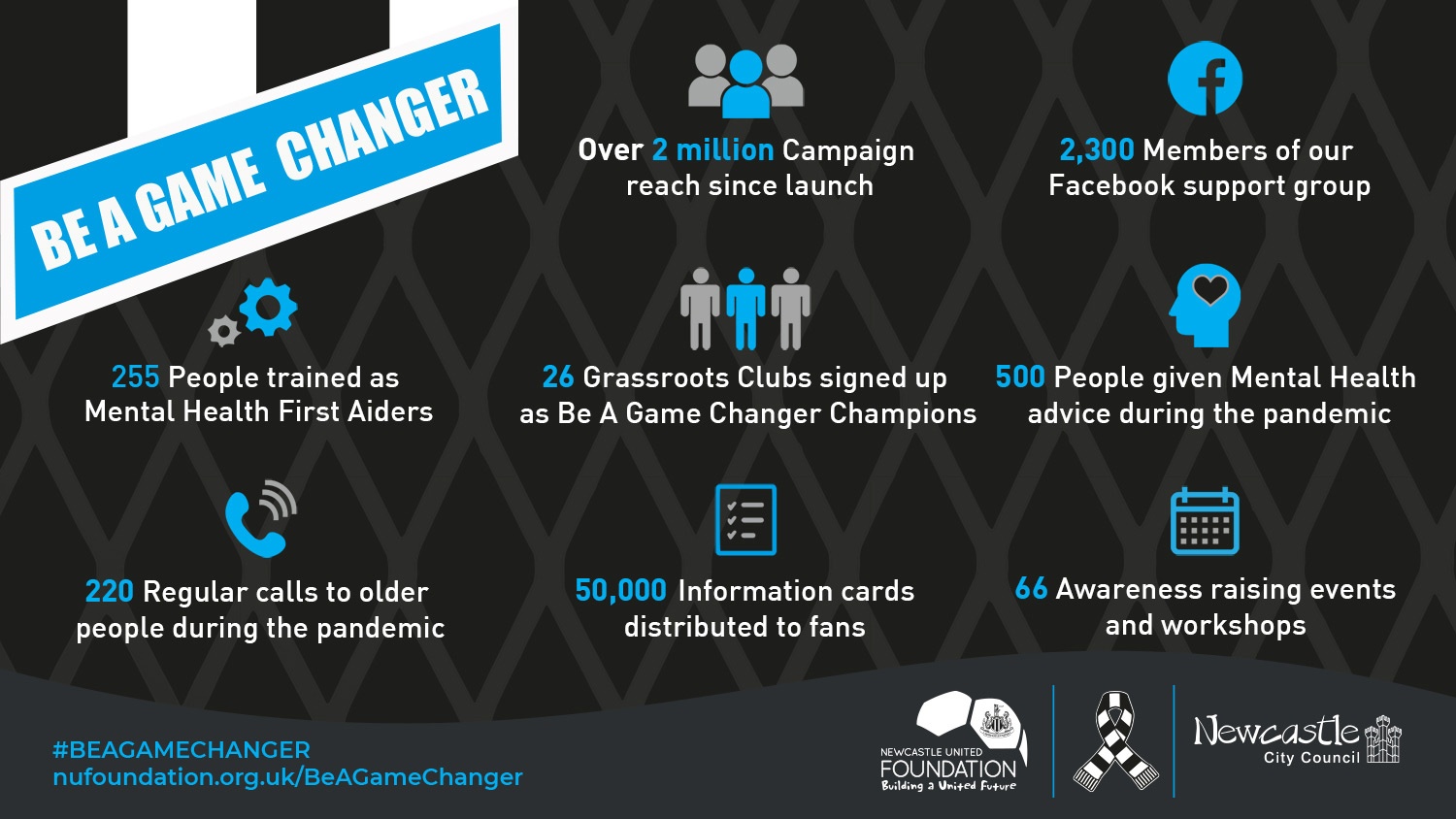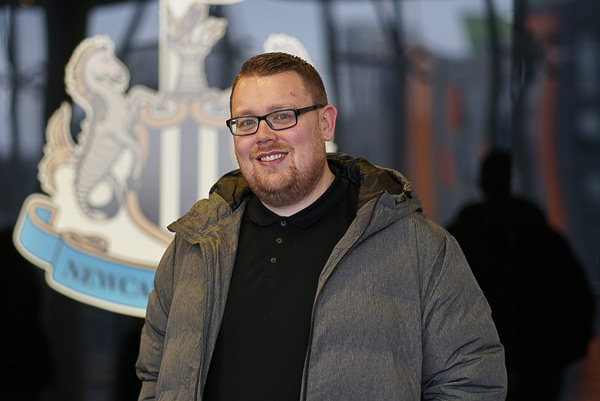 For Josh Banyard, it was hard to admit he was struggling. From the outside, his life looked perfect. But on the inside, Josh was in a dark place.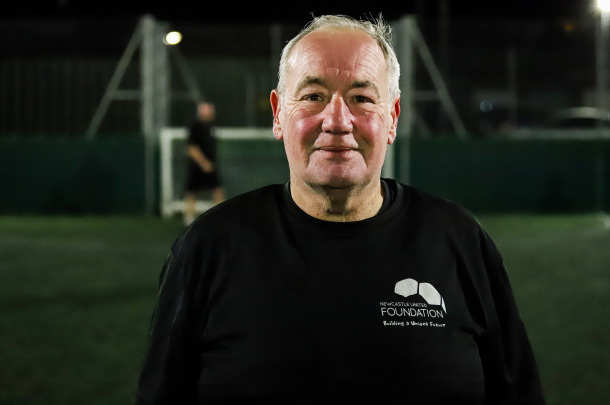 230
over 50's took part in Walking Football, helping improve their health and wellbeing and supporting those who are socially isolated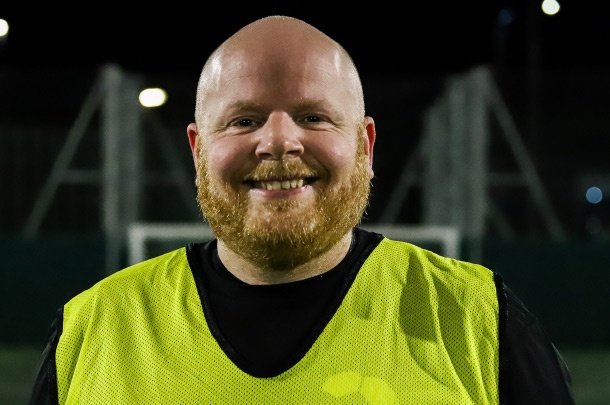 128
people from local businesses, grassroots clubs, Newcastle United Foundation and Newcastle United joined the Foundation's first Mental Health First Aid course to help identify and support those experiencing a mental health issue
Newcastle United Foundation and SAFC Foundation of Light unite for Blue Monday
Newcastle-upon-Tyne Hospitals NHS Foundation Trust staff were invited to access materials and guidance to maintain mental wellness through the Foundation's Be A Game Changer campaign.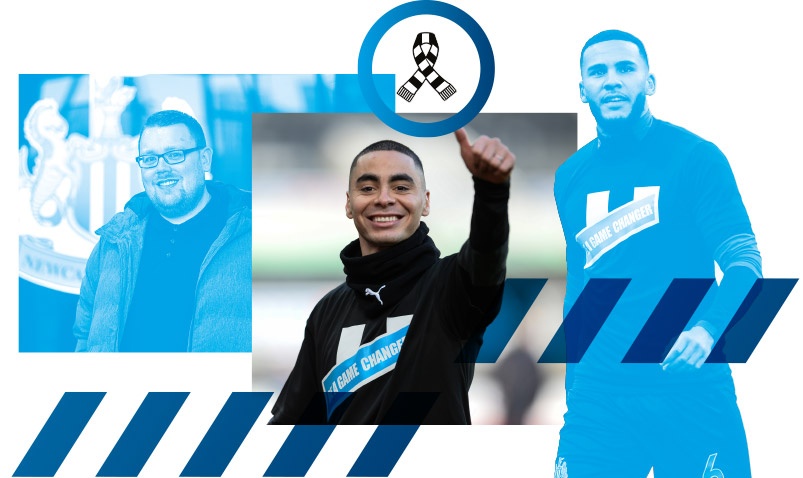 Being able to discuss mental wellbeing and realising its importance for all of our clinical teams in the current situation is so important. Newcastle United is such an important part of everyone's life and to have the support of the Foundation throughout this challenging time is amazing. To be one city united fighting together to keep everyone safe and well means so much to everybody involved in the Newcastle hospitals.
A MOMENT OF MINDFULNESS
Be A Game Changer created a mindfulness track for fans to enjoy while they weren't able to access the stadium for Newcastle United games
Communities unite to begin building Newcastle's future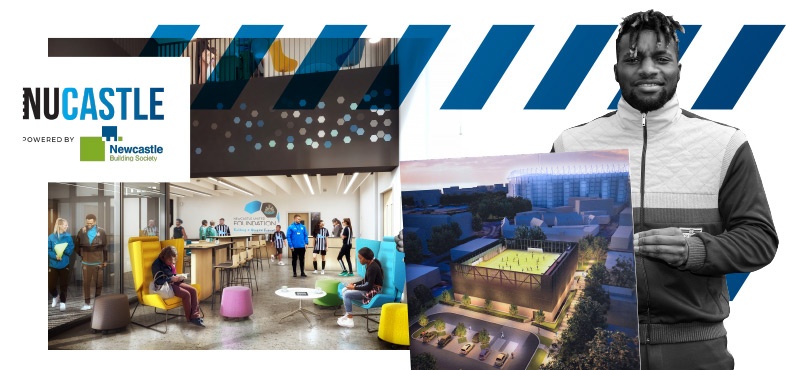 In September we announced a capital and funding agreement with the North of Tyne Combined Authority to provide support for 11-29 year olds to help secure employment access and careers guidance, as well as apprenticeship and traineeships across key growth areas in the North of Tyne area of Newcastle, North Tyneside and Northumberland.
In July we announced that we had our planning application approved to build a state-of-the-art community hub for education, sports and wellbeing on the former site of Murray House community centre in Newcastle's West End. We also announced a six-year partnership with Newcastle Building Society as our Regional Community Partner in an exciting collaboration striving to connect local communities, support the region and create opportunities for children, young people and families.
Newcastle United hero and Foundation Trustee Steve Harper kicks off new era for Newcastle College students
Newcastle United Foundation Trustee Steve Harper has challenged students from across the North East to chase their dream jobs by launching a partnership which promises to kickstart city centre learning.

Newcastle United Foundation's coronavirus response helped more than 15,000 vulnerable people
_________________________  
YOLO project celebrates one year of reducing anti-social behaviour and knife crime in Newcastle
_________________________  
UEFA Foundation pledge to support disability sport programme and help one of our Great North Children's hospital patients Ruby become virtual mascot for the Champions League semi-final
_________________________  
Foundation Powerchair team unbeaten in a year become 2019/20 champions  
_________________________  
Planning permission approved for multi-million pound community hub years in the making
_________________________  
Newcastle Building Society and Foundation enter six-year community partnership  
_________________________  
Paul Dummett named PFA Community Champion for charity work with Newcastle United Foundation
_________________________  
The Foundation received £900,000 funding from North East LEP, which enabled construction to begin on NUCASTLE
_________________________  
The Foundation entered a three-year partnership with St James' Place Foundation to support the Football For All Initiative, which focuses on helping young disabled people
Foundation coaches provided monthly coaching sessions to the Newcastle Panthers, an inclusive LGBTQ football team
_________________________  
Five secondary schools joined our Partner Schools programme – curriculum-based activities delivered by a Newcastle United Foundation full time staff member on-site
_________________________  
United As One programme received huge boost towards tackling discrimination and connecting communities of all faiths and races across the North East via Faith, Race and Hate Crime Grants scheme.
_________________________  
The Foundation distributed 15,000 food parcels to deprived areas of Newcastle
_________________________  
Newcastle United midfielder Matty Longstaff became Foundation Ambassador
_________________________  
Newcastle United Hall of Fame member, Bob Moncur and Newcastle United Women's Captain, Brooke Cochrane became an ambassador for the Be A Game Changer campaign
_________________________  
Former Newcastle United forward Shola Ameobi appointed as a Foundation trustee
_________________________  
Shayan Gazerani earned the Premier League Communities Primary Stars Facilitator award as part of the Premier League Charitable Fund (PLCF) 10-year anniversary celebrations

School engagement reached:
primary school pupils took part in curriculum-based maths and English interventions though Primary Stars
of pupils completing our English sessions improved their confidence in writing
Primary, Secondary and SEN schools engaged with Foundation programmes
of primary school pupils now eat a healthier diet after completing 'Match Fit'
SHAYAN'S STORY
Newcastle United Foundation's Shayan Gazerani earns Premier League recognition for unrivalled community work
Newcastle United Foundation delivered a high-quality scheme of work that encouraged the children to become proactive about issues within their local area. The students were given the tools to develop and implement their own project and were left with the sense that change is possible when they work together.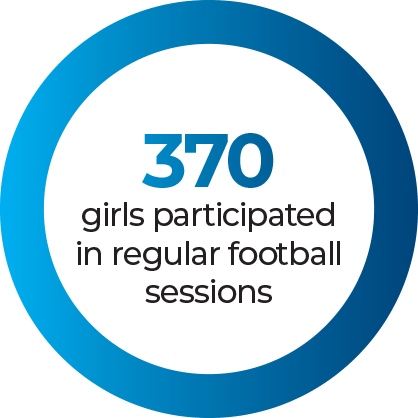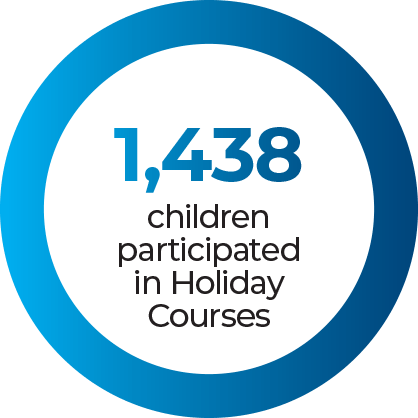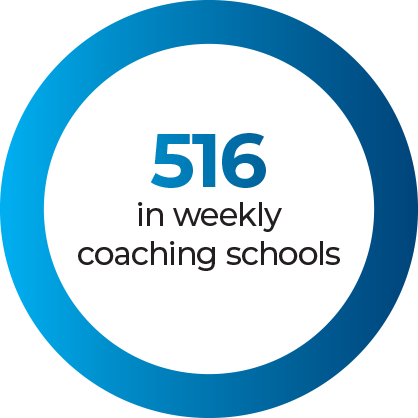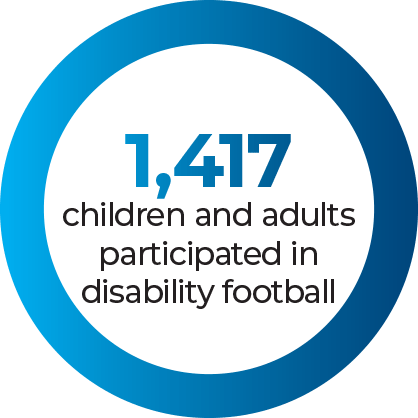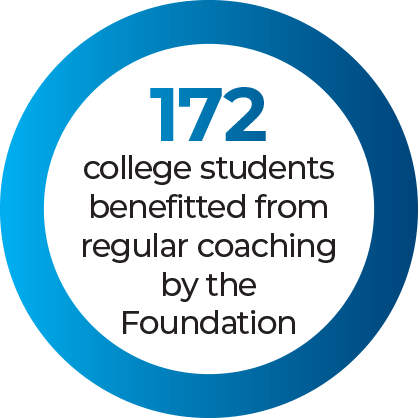 The Foundation continue to support the development of Newcastle United Women to help achieve our ambition for the development of football across our region for women and girls. Highlights include:
The further development of the Lemington Football Centre to create a home for Newcastle United Women including fenced pitches via a grant from the Football Foundation and additional investment in the playing surface with the support of Newcastle United ground maintenance staff.
We agreed strategic partners including Newcastle City Council, Northumbria University, Arnold Clark and Vitality, supporting additional capacity for facilities, coaching and performance analysis, travel and financial investment.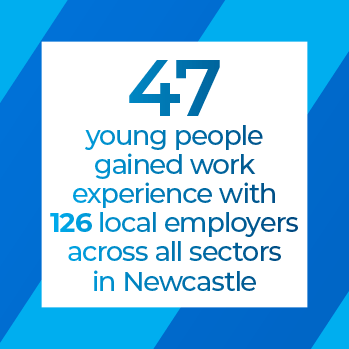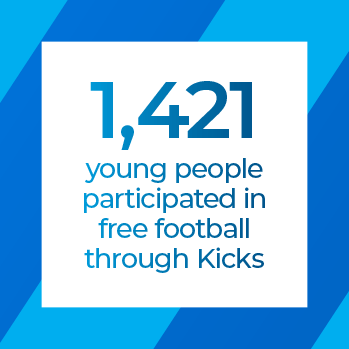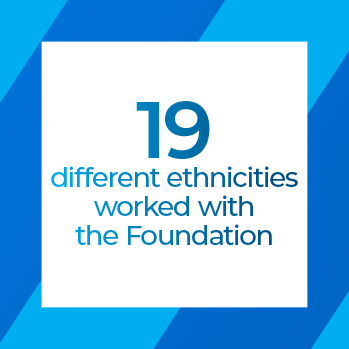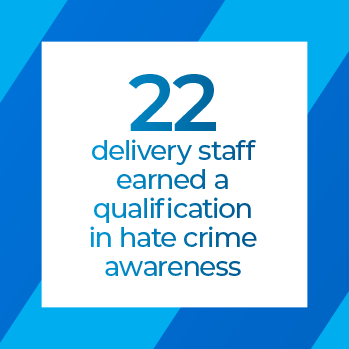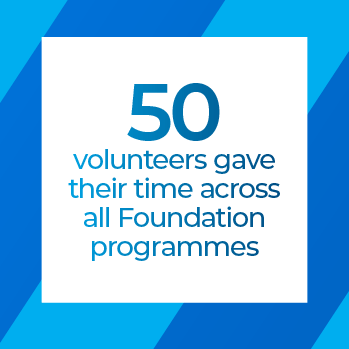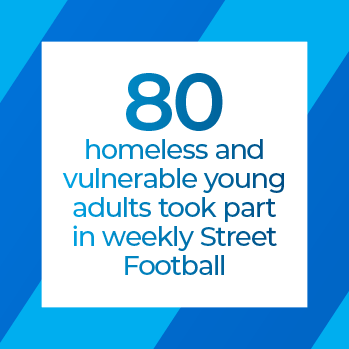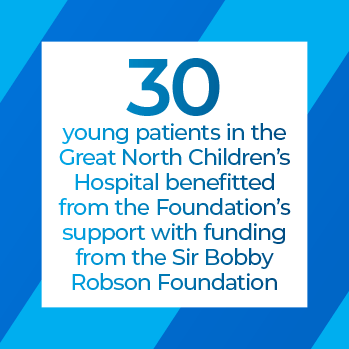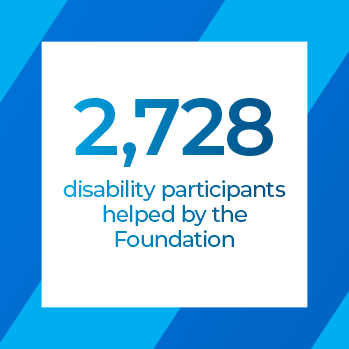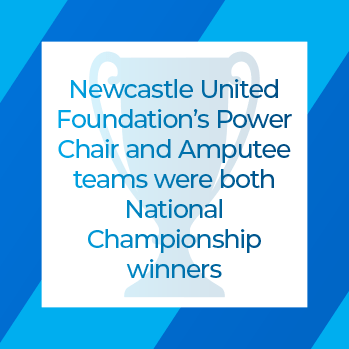 Cancer patient Bailey celebrates end of treatment through virtual meet-up with Newcastle United Players
FOUNDATION COMMUNICATIONS AND SOCIAL MEDIA ENGAGEMENT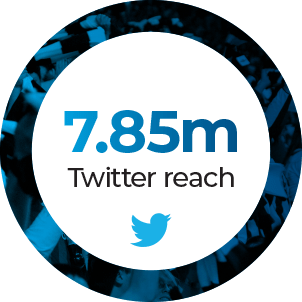 25% increase
from 2018-19 yearly figure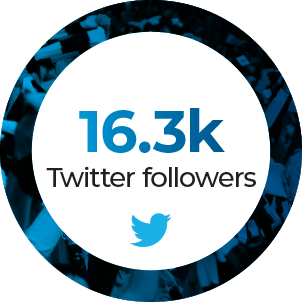 1763 
additional followers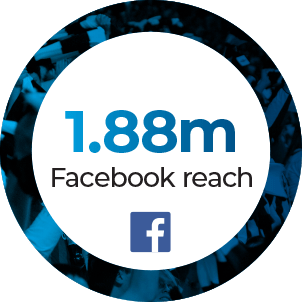 53% increase
from 2018-19 yearly figure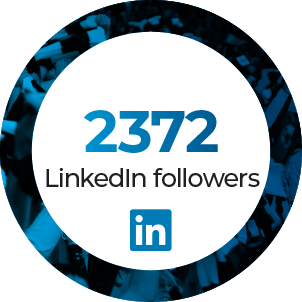 41% increase
compared to 2018-19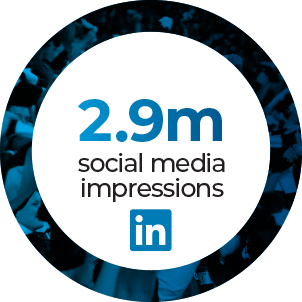 during first 8 weeks
of lockdown
Newcastle United Foundation uses the power of football to motivate and inspire people to be more active, learn new skills, be more employable and to reach their potential. We coach, mentor, educate and provide opportunities to communities that truly need them across the North East. For more information, visit nufoundation.org.uk
Vision
A united community, full of passion, pride and potential.
Mission
Football has an extraordinary power in our region. It connects, motivates, inspires and engages.
From children to adults, we work with generations in our community.
Through our sporting, education, personal development and health programmes, we help people to be more active, to learn, to be more employable, to be healthier, to make connections and to reach their potential.
We are proud of our history but even more excited for our future.
Values
We are ambitious and inspire people to achieve their goals.
We are determined and lead by example.
We are reflective, celebrating success and sharing our learning.
We are united in our commitment to equality, diversity and inclusion.
Arnold Clark
Atom Bank
Barclays
Bell Group
Bernicia
Bidfood
Black & White Construction
Black & White Engineering
Brewin Dolphin
Cool Design
Cedar Group
EY
Fentimans
First Class Supply
Hitachi Rail
ITC Service
Liontrust Asset Management
LNER
Method Training
Molson Coors
Muckle LLP
NE1 Ltd
North
Newcastle International Airport
Parkdean Resorts
Puma
Pure Panel Management
Pulsant
Reece Group
Robertson Facilities Management
Ryder Architecture
Sodexo
Stagecoach
Surgo
Tesco Bank
TDX
The Launch Group
The Malhotra Group
The NBS
Tolent
Technology Services Group (TSG)
Vitality
Ward Hadaway
Womble Bond Dickinson
Zumtobel Group
Baily Thomas Charitable Fund
Banks Community Fund
BBC Children in Need
Benfield School
Big Potential
Blakelaw Parish Council
BT Supporters Club
Byker Community Trust
Coach Core
Comic Relief
Crispa Charitable Trust
David Harrison Centre for Social Mobility
Department for Education
ESF
European Football for Development Network
Football Foundation
Garfield Weston Foundation
Goldman Sachs Gives
Grace College
Great North Children's Hospital Foundation
Helen McArdle and Family
Heritage Lottery Fund
Heworth Grange School
Home Office
Joicey Trust
North East and North Cumbria Suicide Prevention
Northumberland Children's Trust
Northumberland High Sheriff Award
Northumbria Police and Crime Commissioner
Northumbria University
People's Postcode Trust
Joseph Strong Frazer
Man v Fat
Michael Carrick Foundation
Ministry of Housing, Communities & Local Government
National Lottery Community Fund
National Lottery Heritage Fund
NE1 Ltd
New College Durham
Newcastle Airport
Newcastle Bridges
Newcastle Building Society
Newcastle City Council
Newcastle College
Newcastle Helix
Newcastle University
North East LEP
North Gosforth Academy
North of Tyne Combined Authority
North Tyneside Council
Northern Education Trust
Northern Powerhouse
Northstar Foundation
PFA
Premier League Charitable Foundation
Princes Trust
Provincial Grand Lodge of Northumberland
R W Mann Trust
Reece Foundation
R W Mann Foundation
Sage Foundation
Sir Bobby Robson Foundation
Sir Graham Wylie Foundation
Sir James Knott Trust
Social Investment Business
Sport England
Squires Foundation
St.James's Palace Charitable Foundation
The Catherine Cookson Charitable Trust
The Clothworkers Foundation
The Crispa (Richard Can) Charitable Trust
The Dunhelm Foundation
The FA  
The John Horseman Trust  
Tony Blair Sports Foundation
Tyne and Wear High Sheriff Award
Tynemet College
UEFA Foundation for Children
Vinspired
Wellesley Trust
Whitley Bay Junior Football Club
Wise Group
Your Homes Newcastle
Youth Futures Foundation
Patrons
Jonathan Edwards CBE
Gabby Logan MBE
Bob Moncur
Player Ambassador
Sean Longstaff
Matty Longstaff
Trustees
John Marshall (Chair)
Claire Alexander
Shola Ameobi
Lee Charnley
Brian Thorpe
Graeme Mason
Steve Harper
Mick Thompson
Michelle Percy
Senior Management Team
Steve Beharall, Head of Newcastle United Foundation
Sarah Medcalf, Deputy Head of Newcastle United Foundation
Steve Mack, Operations Manager
Helen Wilson, Senior Finance and Resources Manager
Katie Tasker, HR Manager
Andrew Foster, Learning and Skills Manager
Management Team
Liam Atkin, Primary Education Manager
Andrew Dobby, Football Development Manager
Michael Henderson, Management Accountant
Gill Keeka, Business Development Manager
Anya Lawrence, Community Programmes Manager
Ashley Lowe, Health and Wellbeing Manager
Matt Smith, Marketing and Communications Manager
Gemma Warren, HR & Operations Coordinator

 THANK YOU
A special thank you to Serena Taylor for her photography Newcastle United Foundation
St James' Park
Newcastle upon Tyne
NE1 4ST
0844 372 1892 Ext: 8451*
Registered Charity Number: 1124896
*Calls cost 7p per minute plus your phone company's network charge.